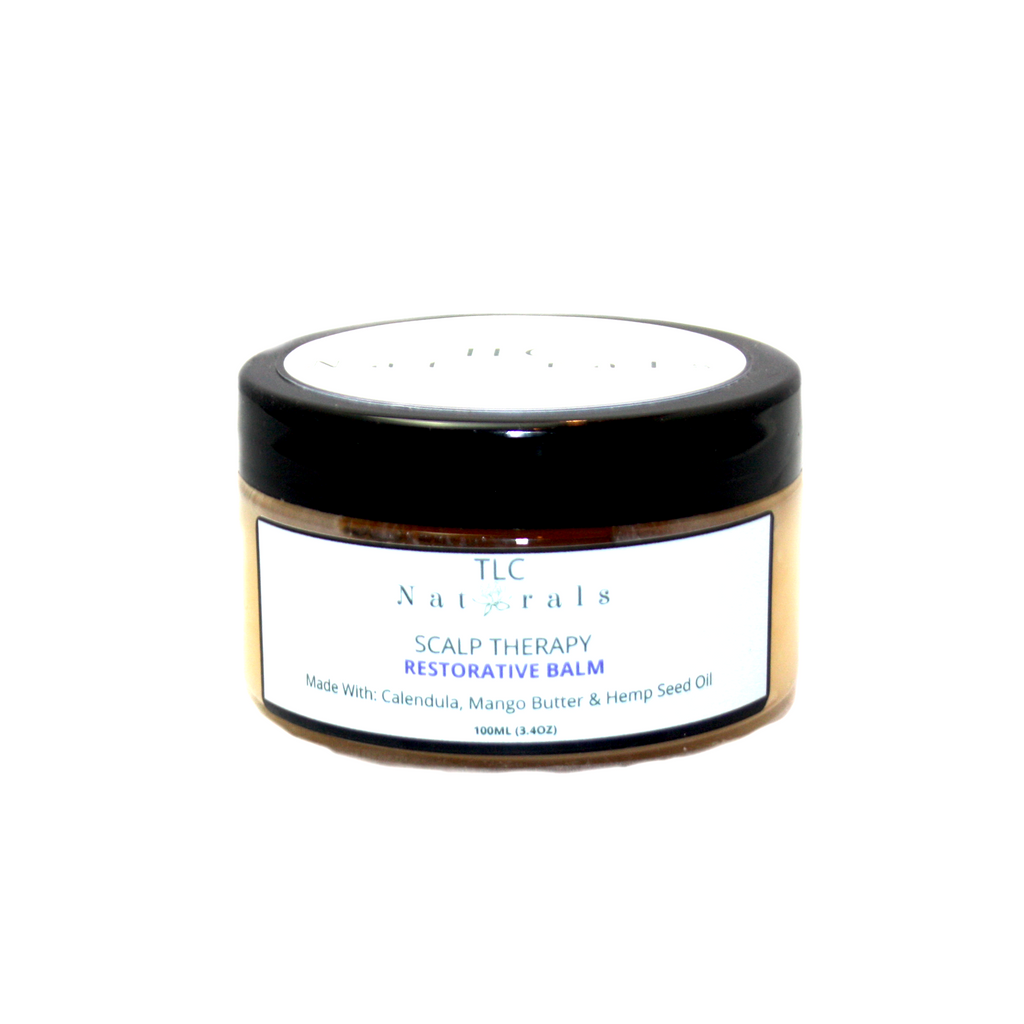 Scalp Therapy Restorative Balm
TLC Naturals Scalp Therapy Restorative Balm goes beyond soothing itching, healing scalp disorders, easing inflammation, and stopping dandruff. It also rejuvenates the cells of the scalp, controls hair breakage, and accelerates healing as well as healthy hair growth. It can even help with ringworm too.
Many who suffer seborrheic dermatitis, dandruff, itchy scalp or scalp eczema tend to suffer hair loss and/or hair breakage as a result of the condition.  This balm was made specifically for the purpose of soothing the scalp, curbing inflammation, and restoring hair growth.
For best results, use with TLC Naturals Scalp Therapy Purifying Shampoo 
It is unisex, suitable for all hair types and can be applied to both the scalp and the hair.

Sizes:
100ml (3.4 oz)
IDEAL FOR THESE CONDITIONS:
Dry scalp
Scalp Eczema
Seborrhoeic dermatitis
Itchy Scalp
Dandruff
and other scalp problems
INSTRUCTIONS FOR USE:
Can be used on wet, damp or dry hair.  Apply a small amount to your scalp and rub in.  Can also be applied to the hair strands.  Use daily for the 1st 2 weeks, and then 3ce a week thereafter.
Suitable for:  vegans
Free From: parabens, petrochemicals, mineral oil, and silicones
WHAT PEOPLE ARE SAYING:
I was so happy to receive my scalp therapy balm last week.  I was even happier to notice the improvement it made to the shaving bumps & folliculitis on my scalp.  It has only been 3 days and my scalp is already 70% clear!  I am returning to your store for the Scalp therapy cleanser - Marc (folliculitis), UK
I wash my hair with the Scalp Therapy Cleanser and use this Scalp Therapy Balm on my scalp.  I just had to tell you - my scalp eczema is cleared up.  It has only been about 2 and a half weeks.  I have no itching or flare ups either.  I even used the balm for the eczema on my arms and it worked too  Danica (scalp eczema), France
Whenever I apply the balm, my scalp immediately cools down. My scalp is a little less sensitive after use.  
I have noticed growth in my hairline. My hairline is getting thicker and my baby hairs are growing back in as well, it is definitely a growth aid!  Sieta (Seborrheic dermatitis), UK
Disclaimer:
This is a  handmade product using natural and organic ingredients.  As a result of this, the consistency, smell or colour may vary from one batch to another.  This is perfectly normal and does not affect the product's performance in any way.